Written by Ekta Patel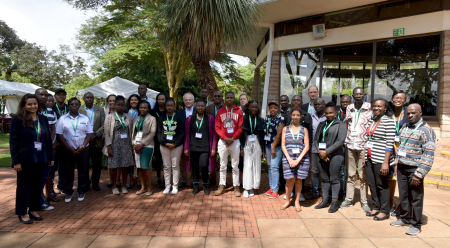 In the lead up to the World Antibiotic Awareness Week 2019 (#WAAW2019), which is celebrated every year in November, the CGIAR AMR Hub at the International Livestock research Institute (ILRI) jointly with Kenya's ministries of Health and Agriculture, Livestock, Fisheries and Irrigation hosted, at the ILRI campus in Nairobi, a media sensitization on raising antimicrobial resistance (AMR) awareness.
Twenty-five journalists from a cross section of Kenya's media houses and magazine publishers attended the event and were joined by key speakers and observers from the Ministry of Health, the Directorate of Veterinary Services, the Kenya Medical Research Institute (KEMRI) and the University of Nairobi (UONBI).
Antibiotics are an essential part of treating human beings and animals; from the child who needs antibiotics to treat an infection from a graze in the knee, the elderly person who need antibiotics after a knee replacement surgery, to the sick cow in a farm that needs treatment. As Rudi Eggers, the World Health Organization (WHO) representative in Kenya says, 'antibiotics are an essential part of our health and we cannot do without them.'
But AMR, which results from the overuse and misuse of antibiotics in both human and animal medicine, has led to a growing number of bacteria in humans, animals and the environment, that are resistant to antibiotics. AMR is now a serious threat to human and animal health.
The ILRI-hosted media sensitization sought to relay accurate research-based information on the challenge posed by AMR to humans, animals and environments both in Kenya and globally and what is being done to tackle the problem. The media practitioners were targeted because of their role as intermediaries of information between AMR researchers and the public. The half-day interactive session shared updates on Kenya's progress in researching and tackling AMR and gave journalists the opportunity to ask key questions to a panel of experts to better understand the realities of AMR and how to communicate them to the public.
Held on 15 November, the event was a curtain-raiser to the official launch of #WAAW2019 regional AMR awareness activities in Kenya. This year, Kenya hosted Africa's first World Antibiotic Awareness Week on 18–24 November in a campaign supported by the World Organization for Animal Health (OIE), the Food and Agriculture organization of the United Nations (FAO) and WHO.
'This session was extremely helpful,' said Nanjinia Wamuswa, a correspondent at the Standard Group PLC. 'It has given me an upper hand on the knowledge of AMR, and I walked away with a lot of information about AMR from hearing it directly from the various stakeholders. I now realize that AMR is not just a Kenyan problem but rather a global issue and not addressing it can actually derail national efforts towards achieving the Sustainable Development Goals (SDGs) including ending poverty, hunger and ensuring good health and well-being,' he added.
Wamuswa said the session brought together journalists and scientists working in AMR and representatives of government health and agriculture agencies who shared accurate information about the problem. 'I am now keen to visit farmer(s) to see how they manage livestock and crops and from the conversation – armed with knowledge of AMR – I can now relate to the problem. I will also gauge farmers' awareness on AMR, on the use of antibiotics and also get field doctors to share their experiences on AMR so that I can better disseminate the messages about the need to prevent and tackle AMR.'
Gilbert Nkweya, a science and technology journalist at SciDev.net said the event provided a snapshot of what was being carried in the fight against AMR. 'It was a really good chance to meet experts working on AMR and we got a chance to interview scientists from various institutions and government officials. It clarified confusion in reporting which is very important.'
Milliam Murigi, a mother and writer for People Daily, was grateful for such an informative discussion with scientists, clinical doctors and government officials. 'I take antibiotics all the time at the slightest sign of a flu. I even carry them in my handbag. I did not realize that antibiotics cannot treat viral infections. I will no longer take antibiotics for the sake of it,' she said. She further added that she will be cautious and mindful of what is prescribed to her daughter.
Several journalists who attended this event are parents who were surprised at how often they have been giving their children over-the-counter antibiotics, which are sadly often readily sold in many pharmacies without a prescription. While most said they would change the way they use antibiotics, the journalists also called for stricter limitations on the availability of over-the-counter antibiotics, an issue that the Ministry of Health is already looking into. The FAO's Africa regional representative Scott Newman, rightfully pointed out the need 'to improve our control of regulations, management and access to these antibiotics.'
Read more about #WAAW2019 celebration in Kenya:
Watch AMR video released during #WAAW2019: