Written by Barbara Wieland and Ekta Patel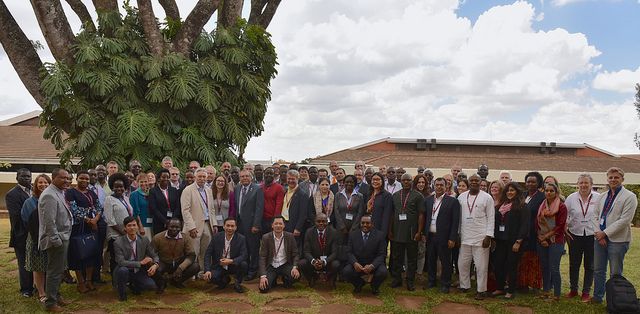 On the 21 and 22 of February 2019, more than 80 people from different national and international research organisations, government institutions, NGOs, and private sector joined the International Livestock Research Institute (ILRI) for the first partner event of the new Consultative Group of International Agricultural Research (CGIAR) Antimicrobial Resistance (AMR) Hub. The CGIAR AMR Hub brings together four CGIAR centers (ILRI, IFPRI, WorldFish and IWMI) and a related research portfolio covering three CGIAR research programs and bilateral projects. The research portfolio is organised into five critical pillars that address key gaps in research and provides an enabling environment to achieve impact. Partnerships across disciplines and stakeholder groups are at the heart of the hub to promote One Health thinking to tackle the huge challenge of antimicrobial resistance.
One of the key objectives of the AMR hub is to convene different stakeholders and to facilitate interactions across disciplines, which was successfully achieved at this first event. With a range of key stakeholders, the aim of the event was to discuss how the hub could best be at the service of partners and to forge possible new collaborations and identify priorities for the hub to work on. 
The two-day event was commenced with opening remarks from John McDermott, Director of the CGIAR research program on Agriculture for Nutrition and Health, which has contributed most of the funding of the CGIAR AMR hub, followed by a welcome note from Director General of ILRI, Jimmy Smith.  Andrew Tuimur, Chief Administrative Secretary from Kenyan the Ministry of Agriculture, Livestock, Fisheries and Irrigation expressed support for the CGIAR AMR hub and to set the scene, Jonathan Wadsworth, Senior Livestock Advisor from the World Bank described AMR as a 'wicked problem' in his keynote talk titled "Pulling together to beat superbugs", emphasizing the need for systems thinking in that processes are often not linear, but characterised by feedback loops that need to be understood in efforts to find solutions. He also explained how AMR is linked to attainment of the Sustainable Development Goals (SDGs) and that working on SDGs can help fighting AMR. Robert Skov from the International Centre for Antimicrobial Solutions (ICARS) based in Denmark, explained how this new centre aims to work across public health and veterinary sectors and highlighted the many areas for potential collaboration with the CGIAR AMR hub. 
More food for thought was provided through country case studies from Kenya and Vietnam, both examples of countries that are implementing National Action Plans, reflecting on challenges they are facing, such as underperforming reporting systems, lack of resources at different levels, a tendency to have too many regulations, that may be good but are not being able to be enforced, causing more confusion instead of helping to improve the situation.  
Viewpoints on challenges and proposed solutions from other stakeholders were discussed in a panel with representatives from a national government research organization, private company, social and aquaculture, scientists and media perspectives. Christie Peacock from SIDAI Africa emphasised problems related to easy access to drugs, Sam Kariuki from the Kenyan Medical Research Institute commented on the fact that different stakeholder groups from different disciplines do not communicate enough with each other, Nicoline de Haan from ILRI reminded participants on the role of social sciences and that not enough seems to be done in that area and that women need to be part of the solution. Jerome Delamare-Deboutteville from WorldFish emphasized the need for environmental management and opportunities to reduce disease burden through vaccination, and Sophie Mbugua, an independent journalist, urged the science community to engage media as early as possible in projects to avoid miscommunication later on. More interpretation of data generated is needed, it needs to be clear and easy understandable what research findings mean for who. 
Group discussions facilitated the opportunity to capture views of all participants on their perceived challenges and highlighted a range of activities that the hub to should aim to work on. The discussion was organised around three topics that are relevant for the implementation of National Action plans: Planning and evaluation (surveillance, data analysis, risk assessment), how to prioritize interventions, and anchoring and scaling through stakeholder engagement. Some of the areas that the hub should work on include stakeholder mapping, capacity needs assessments and support in data collection, storage and analysis. These could be a part of the initial system to establish baseline studies to monitor impact of interventions or for general long term monitoring and evaluation reporting. 
Other's expressed that they see the hub to have a role in supporting data analysis and in generating evidence from existing data, but also to develop measurable and reliable indicators on AMR incidence, burden and use of antimicrobials. Related to testing of interventions, there is a need to conduct cost-effective analysis in different production systems. In addition, there was a strong consensus that the hub provides resources for partners which could include guidance on intervention designs, surveillance planning, standardized laboratory protocols and provide advocacy materials and support communication efforts around antimicrobial resistance. Needs around communication were especially highlighted for engaging with different stakeholders. In that respect, it was also recommended that one of the following partner events could focus on involving livestock and agricultural producers.   
AMR Hub participants were introduced to the AMR dedicated laboratory facilities within the Biosciences eastern and central Africa (BecA-ILRI) Hub with its state of the art laboratory facilities, and the participants had an opportunity to review the current and on-going research being conducted in the CRP's through poster viewing sessions and presentations of CGIAR research programs A4NH and Livestock and CGIAR centers. 
The event concluded with commitments on next steps to be undertaken through the hub. 
Discuss priorities within CGIAR and intensify collaboration between the different CG centers
Develop a communication strategy at different levels which includes communication of the hub with a wider audience through the AMR hub website, regular blogging with links to resources related to AMR research highlights, involve communication into research on how to engage with different actors in the value chains, and translating evidence into messages for the wider public
Use new funding directed to the AMR hub, mainly through the CGIAR research program A4NH, to initiate and support new partnerships and provide seed funding for projects that have potential to lead to larger investments in the future 
Develop a strategy to engage donors in the discussion on AMR and how the problem can be tackled and provide evidence to help shape their agenda
Initiate work on stakeholder mapping and capacity development needs, possibly linked to other partner events
The AMR hub team was extremely pleased with the inputs received from the highly engaged participants over the two days and has many ideas to follow-up on, making for interesting and exciting times around AMR research in the coming months. 
Additional links to some resources related to the CGIAR AMR hub partner event:
Overview of AMR hub and CGIAR AMR research portfolio
Presentation of Jonathan Wadsworth, World Bank
Presentation of Robert Skov, International Center for Antimicrobial Resistance Solutions
Antimicrobial Use in smallholder livestock systems in Ethiopia
Antimicrobial residues and resistant bacteria in the Indian diary value chain